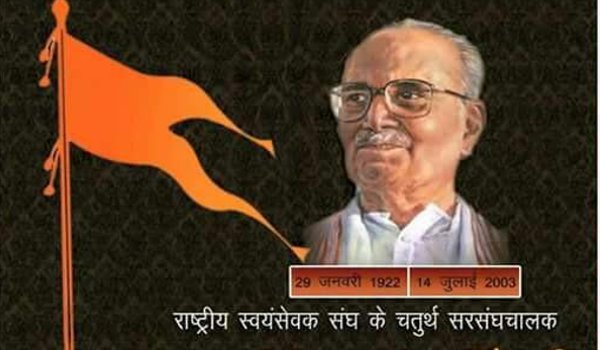 Prof. Rajendra Singh popularly known as Rajju Bhaiyawa fourth SarSanghchalak of the Rashtriya SwayamsevakSangh (RSS) during year 1994-2000. His whole life was devoted in the service of nation and mankind and is most inspiring example of working selflessly for the Country. His life was inspired from Freedom Fighter Ram Rasad Bismil Ji and M.S. Golwalkar Ji who motivated him to work whole life for the country. The whole life of Prof. Rajendra Singh is a great example to follow for all country men. Under this inspiration, It was decided by some respected citizens interested in social work for betterment of the society to form a Charitable Trust in the memory Prof Rajendra Singh(Rajju Bhaiya) to propagate his vision and philosophy to serve the last man of the country.
Early life:
Rajju Bhaiya's father Balbir Singh hailed from village Banail in district Bulandshahr. He was good in mathematics. His teacher thought that he should opt for engineering. This is why, sometime in 1915, he landed up at the Roorkee Engineering College, the best in those days. He set up new records. He was a gold medallist in studies and was an athletic champion. A record equaled only once since then. His father Balbir Singh retired as a Chief Engineer (Irrigation). He was the first Indian to be so appointed. He was married to Jwala Devi; 'jiyaji' as fondly people remember her. They had five children. Rajju Bhaiya was the middle one.
Rajju Bhaiya was born on 29th January 1921 and after a brief stint at Modern School, Delhi was sent to St. Joseph Nainital for his schooling. He came to Allahabad University in 1939 for his university education. He secured 5th position in the BSc and came 2nd in MSc (Physics). Harish Chandra, the greatest Indian mathematician, was his class fellow in the University days.
Prof. Rajendra Singh alias Rajju Bhaiya joined h the Department of Physics, University of Allahabad. He was one of the finest teachers to have walked in the corridors of the University. However, he left the University in mid 1960's and dedicated his life to social work.
Although formally he join RSS after 1942 but his inclination towards service to the society refrained him from not marrying the girl who as daughter of Army doctor at the age of 20 when was students of B.Sc.
One of the most important beliefs of Singh was: "All people are basically nice. One should deal with every person by believing in his goodness. Anger, jealousy, etc. are the offshoots of his past experiences, which affect his behavior. Primarily every person is nice and everyone is reliable."
Like other Sarsanghchalaks he was a firm believer in the concept of swadeshi and empowering rural economy. Initiating the rural developmental activities, he had declared in 1995 that the utmost priority should be given in making the villages hunger-free, disease-free and educative. Today, there are over 100 villages where the rural development work done by swayamsevaks has inspired the people of surrounding villages and their experiments are being emulated by those people.